Ups and Downs

Naples, Italy 2019
---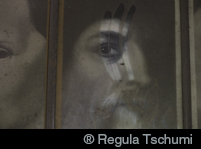 Returning to Naples was particularly special. I felt from the very start that we were going to cover new ground, and we did.
We climbed Mount Somma and the Vesuvio. The first ascent was particularly hard and strenuous, but with the confidence in my students and me we did both, each one of us at our pace. Some interesting images came out of both experiences, which were very invigorating.
David was returning for his second time. Mark after taking the Easter in Sicily workshop was coming to follow his back-to-back workshop. Regula was also returning for her second time. And finally Peter was coming just for the weekend to share with us his latest version of the beautiful project he has ben working on for years about the complexities of living under the influence of drugs, violence and prostitution.
During the weekend we gave him priority and took our time to give him our opinions.
The body of work is getting stronger with the most recent entries. The personal documentation is there; the important poetic aspect is there as well. We just suggested working longer on the hopeful aspect of the project.
We also continued to edit David's project by eliminating images and adding some new ones form this year. His documentation is becoming much more personal and poetic.
We looked at Regula's images of the African religious ceremonies and the pictures taken in Sicily by Mark.
I shared with the students my new book Cuban project 25 de Noviembre due out in the spring of 2020.
Thanks to everybody's help more images got eliminated and some good suggestions came out of it.
I thought that I was almost done with my project about Naples after printing over one hundred images from the first five years of having taught there.
Looking at all of those images had profoundly startled me: I had never done anything that would come close to that and I'm far from finished!
I'd best describe the pictures as metaphysical, abstract and very, very surreal! People are in it but unlike other projects they don't take center stage. The students' editing greatly helped me to better understand what I'm doing.
Despite the fact that everyday was very hectic and full of activities visiting new locations and returning to old ones, we always found the time to have the guaranteed incredible Neapolitan food well beyond the unbelievable pizza and desserts we had.
We averaged 12 km a day. Not bad considering that there were many ups and downs including 150 floors we climbed on the unforgettable Mount Somma climb.
Eager to return. All students have already made plans to return next year! EB
---