Piece of Cake

Naples, Italy 2015
---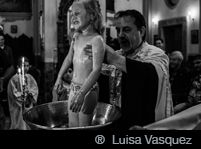 This second workshop in Naples made me understand why I'm back. This incredible city has began to allow my students and I to enter its darker and more hidden facets: gipsy camps, abandoned factories, forgotten places. But our probing also included the maze of alleys in the old part of town, ruins, museums, parks, the subway, boats and the sweet and charming island of Procida.
I had the fortune to have some special students not only for the pictures they took, but also mostly for being good human beings sent to me for deeper reasons than just a photo workshop. They all cared and took good care of me as much a I did the same with them. This is the best combination!
Agnieszka and Luisa were at their second workshop with me after having taken respectively the Oporto, Portugal workshop and the Easter in Sicily one.
Agnieszka turned her images into small miracles and Luisa transformed ordinary into extraordinary.
Jacek surprised all of us with his kind presence and his enormous curiosity about the photographic process only surpassed by his love for octopus that shared with me. Religiously, we knew that our daily menu had to contemplate at least a large portion of octopus salad. He also managed to show the soul of Naples in color.
And then there was Peter, the second winner of this year BPW scholarship fund in 2015. He came to learn and enjoy the benefits of having the unique opportunity of studying with me for free. His Neapolitan images show his raw and dark talent.
Peter had brought to Naples all his images from the Bratislava project he has been working on and with which he won the scholarship. Along with the other students we took the time to edit and sequence his images. I didn't do it by myself: each one of them greatly helped! It felt special caring and guiding this young, talented student through his path of life in which photography is just a part of.
As part of my teaching I also shared with them my family project and the first three Latin American Cantos from Bahia. They provided a useful feedback helping me eliminating several images.
During the workshop we were also blessed with the presence of my Neapolitan friends Salvatore and Valeria Esposito and Andrea De Franciscis whom graciously shared their vision of Naples.
The whole experience turned out to be very intense and soulful. Agnieszka, Luisa, Jacek and Peter's images did justice to the unique workshop we shared in such a special way.
I have no choice but to return to Naples next year!
EB
---