Holy Hail

Valley Sacred, Peru 2020
---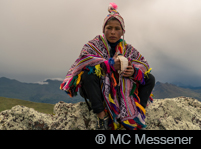 Another return to the carnival times of the sacred valley in Peru. Sissy is with me again along with Chad, MC and Andrea that is finally taking advantage of the scholarship he won back in 2018.
The very first day we ascend again to the top of the mountains to see el dia de los compadres celebrations. The atmosphere is very special and the locals are always welcoming. We spend several hours taking pictures and despite the altitude and the uncertain weather we have an amazing time. The descent is always very hard. An old, sweet lady guides us down to the village of Chahuaytire where Victor has been waiting for us.
The days continue to unravel in a slow and beautiful way. We photograph in the old farm where they kill a piglet for us to photograph and eat.
Then another day we under intense rain mixed with hail we reach the small church devoted to the Virgin where more carnival activities take place. Many indigenous groups go into the church to pay their respect and throw confetti on her statue. I find it a very moving spectacle to have before my eyes.
The rain doesn't stop and it's getting late. I take the decision to leave. It's wise to do so because of the treacherous dirt road we need to drive on. We get to a running river right through the road. Victor senses the danger of crossing and being swept away. We spend three hours waiting for the water to slow down. Andrea and I talk quite a bit. We even try to take some pictures of the powerful water.
We finally manage to wade through and make it back safely to our hotel.
The morning editing sessions are always interesting with few incredible images coming to light. The heavy hail has given Chad to take a beautiful image of a lonely horse.
Besides the regular editing we also edit Chad's Peruvian work and Andrea's images from various Indian projects. I also share with them the first unbound copy of 25 de Noviembre. I get a good response and we all celebrate being together.
This is what I've been doing over the course of many years of teaching: celebrating the beauty and sacredness of life! EB
---