---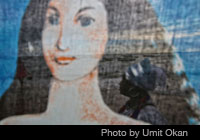 In my three-month stay in Bahia earlier  in 2012, I had the privilege to photograph in Salvador the celebration for Iemanjà, the candomblè goddess of the sea.
I spent a long time in the Rio Vermelho fishermen's neighborhood taking pictures of this unique, intimate celebrations as worshipers paid their homage by lighting candles by the shore and letting the sea take their generous offers.
Many epiphanies unfolded before my eyes as I wandered along the semicircular beach packed with devotees all dressed in white tunics adorned with the white and turquoise beads: Iemanjà's colors.
The next day I went to the colonial town of Cachoeira where the celebrations continued. I attended rituals in the terreiros devoted to Iemanjà and photographed the stupendous boat trip along the Paraguaçu river where her followers released precious offers.
Some women all dressed in pure white were squatting all inside a saveiro, a traditional sailing boat. I'm crouching just in front of them trying to fathom what to do and out of the blue the six of them get into a trance simultaneously. Their facial expression suddenly change, with their eyes totally shut they start motioning only as whispers come out of their mouths.
I'm speechless and almost do not react to this incredible spectacle unfolding before my eyes. Then my photographer's instincts seizes me as I raise my camera and start shooting a few frames. The scene is still there before me with just subtle changes in their face taking place. I take a few extra images until an older lady comes into the frame and break the scene.
When I find myself in beautiful situations like these I immediately think of wanting to share them with my students knowing that they will greatly enjoy such experiences.
This is why in 2013, I decided to launch this new workshop in Bahia. We will be able to spend several days in Salvador shooting daily life in this incredible city that I've come to love and where I've been photographing for the last six years. As the celebrations get under way we will start taking pictures first in Salvador and then we will move to Cachoeira where the celebrations will continue for several days in town and in the surrounding villages where other rituals will take place. I'll also take you around the Reconcavo Bahiano, this beautiful rural region that has been the focus of my work for several years. We will visit fishing villages, some of the families in what used to be a landless movement camp, who are now owning their land. We all also spend some time with some of my farmer friends.
As in all my workshops, it will be at the same time an unforgettable photographic journey and a very soulful experience where we will all share the gift of life in its myriad forms.
Don't miss out on this new course by BPW.
I look forward to seeing some of you in late January. EB
To receive further info and the cost of the workshop please write to: ernesto_bazan@hotmail.com or bazanphoto@yahoo.com
Refund Policy
I rely on your attendance to organize many of the workshops' logistics, so if for any reason you decide to no longer attend the workshop, please notify me at least 60 days before the start of the workshop. At that time I will refund your fee minus $200 cancelation fee. If you cancel between 30 and 60 days before the start of the workshop I will retain $250 as a cancellation fee. If notification is made less than 30 days before the start of the workshop no monies will be refunded to you.
Please note that in case of exceptional and unforeseeable circumstances such as hurricanes, earthquakes, major floods, tsunami, a war or governments' change of policies in the countries I teach courses, BazanPhotos will only offer as a refund a new workshop in any of the other venues during that same calendar year. No other forms of refunds will be available.
---