---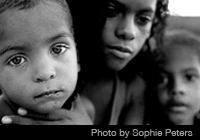 BazanPhotos has the pleasure to launch a new workshop in one of the most beautiful location in Latin America. After completing another wonderful The Magic of Salvador de Bahia workshop last March, I went to Chapada Diamantina mountainous region in the state of Bahia. I wanted to continue to explore this land in the hope to discover other unique locations where to teach new exciting workshops. I had a shortlist of various locations to visit that had been given to me by a wonderful Bahian painter. After a few days of wondering around Lencois and the surrounding areas, I decided to drive all the way to a remote village founded by gold diggers a few centuries ago. I still vividly remember going up a very steep winding cobblestone road, which I was later told, that had been built by slaves. As the car was slowly moving forward in firs and second gear, I was asking myself why on earth was I doing this? Half-hour later all my frustrations were totally forgotten. I was welcomed by the warmth and hospitality by the locals. As I started wandering it became very clear that I had literally stumbled upon true gold. In my extensive travel in Latin America I had never found a place so remote and yet so magical. As I was introducing myself to the locals the common denominator in their conversation was how lucky the felt to live there, one of them added: "We feel like we are living in a small paradise." The town has some very beautiful buildings including a beautiful church and the adjoining cemetery. The mansion and beautiful abodes belies the glorious past of a golden age. Everybody was welcoming and open to be photographed. A great lady runs a home cooking restaurant that serves delicious Brazilian food. Simple and beautiful situations were unfolding before my eyes as I was walking. I asked around when their most important celebration was going to be held. I was given the dates and a full description of the three days of festivities. My instinct immediately told me that I had to absolutely organize a workshop there.
We will be spending 6 days in the Chapada Diamantina region. Three days in the charming colonial town of Lencois full of daily life; we will explore a quilombo, a village founded by free slaves near by. And then we will spend three days in this very unique village during the celebration of the local Patron. We will partake in the rich daily life of this pueblo as religious celebrations mingle with music and reveling. After that we will return to my beloved Salvador de Bahia to process the film (for the analogical cameras users), continue with the editing and to take more pictures in the many locations that I've been delving into in the last four years exploring this amazing city where I feel I totally belong.
As always, it will be a very special life's adventure and it will go well beyond just a photographic workshop. If you need for an experience where to recharge your batteries and to find new inspiration to take more profound and intimate photographs, it's an opportunity not to be missed!.I will spend quality time with each one you both during the critique sessions and on our daily photographic outings. I'll also carefully review all your portfolios the very first day of the workshop.
As in all the other workshops I teach, my ultimate goal is to help each participant to create an appealing body of work with personal strong individual images. Each student will be encouraged to develop his or her own photographic language and to search for the invisible thread that ties his or her images together. I'll help you to improve your ability to see and create new photographs, to discover your hidden potential. It will definitely be a valuable educational experience where you will develop the skills to look at your own work more critically, to appreciate and discuss yours and other people's work by learning a new visual vocabulary. Our final objective is to produce a series of revealing; lasting images that will display a sense of the place, of its people and traditions. You will return home with a new commitment to your work and your creativity. For the ones of you who came to other workshops of mine and experienced my teaching, I'll simply add that it will be another great learning experience where we'll share both photography and life.
Not to be missed especially by my repeat students who are always very eager to follow me everywhere I create a new course.
EB
To receive further info and the cost of the workshop please write to: ernesto_bazan@hotmail.com or bazanphoto@yahoo.com
Refund Policy
I rely on your attendance to organize many of the workshops' logistics, so if for any reason you decide to no longer attend the workshop, please notify me at least 60 days before the start of the workshop. At that time I will refund your fee minus $200 cancelation fee. If you cancel between 30 and 60 days before the start of the workshop I will retain $250 as a cancellation fee. If notification is made less than 30 days before the start of the workshop no monies will be refunded to you.
Please note that in case of exceptional and unforeseeable circumstances such as hurricanes, earthquakes, major floods, tsunami, a war or governments' change of policies in the countries I teach courses, BazanPhotos will only offer as a refund a new workshop in any of the other venues during that same calendar year. No other forms of refunds will be available.
---