---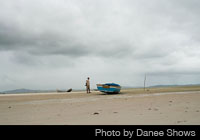 I've been teaching already several workshops in this special place, which is Salvador de Bahia. The students that come remain fascinated by the many different facets that Salvador has to offer and by the incredible human experience that we share with the people we photograph. As I probe deeper into my project on the city and the state of Bahia, I begin to start offering new workshops to expand the photographic possibilities my disposal. I also like to heed attention to my students' suggestions. In our last's visit at the island of Itaparica I heard a unanimous chorus of:" Why don't we spend more time on this beautiful island?" This new workshop pays homage to my students' wish.
I love the laid-back feeling that the island has. It's only 30-minutes away from the bustle and hustle of Salvador and yet it offers a world in itself dictated by its slow pace rhythm. Its inhabitants are very welcoming and friendly as they go about in their daily life, paying almost no attention to some foreigner walking around with cameras. But the unique aspect of the island is that you find a farming and fishing communities. The fishing hamlets are out of Ulysses' time. Fishermen continue to practice traditional ways of catching fishes and the flow of tides plays still an important role in their work. Children play happily on the long strips of white sand dotted all over the island. Farmers go about their daily life tending the fields and their animals. The town of Itaparica itself is a very special place with its peaceful colonial buildings, the locals gathering around table playing cards or exchanging daily stories.
We will be spending three days exploring the myriad photographic possibilities that Itaparica island has to offer. Our base will be the town of Itaparica itself from where we will travel round the island visiting various villages and hamlets. We will also be spending time taking pictures in town.
After three days on the island, we will be taking the ferry back to Salvador. From there a van will take us to that beautiful country area, an hour north of Salvador, where we will continue to delve into the beautiful daily life of the fishing village that I've been photographing for the last four years. We will also have the opportunities to visit several camps of the landless movement where I know well several families living there. It's very moving to see how they open up their life to us as we meander into the camp. On our seventh day into the workshop, we will be heading back to Salvador where we will be spending the last three days shooting some more, will be processing the film (for the analogical cameras users) and do the final edit of the student' best images.
It will be another fabulous adventure into this very special culture.
I will spend quality time with each one you both during the critique sessions and on our daily photographic outings.
I'll also carefully review all your portfolios the very first day of the workshop.
As in all the other workshops I teach, my ultimate goal is to help each participant to create an appealing body of work with personal strong individual images. Each student will be encouraged to develop his or her own photographic language and to search for the invisible thread that ties his or her images together. I'll help you to improve your ability to see and create new photographs, to discover your hidden potential. It will definitely be a valuable educational experience where you will develop the skills to look at your own work more critically, to appreciate and discuss yours and other people's work by learning a new visual vocabulary. Our final objective is to produce a series of revealing; lasting images that will display a sense of the place, of its people and traditions. You will return home with a new commitment to your work and your creativity.
For the ones of you who have already experienced my teaching in some other workshops, I'll simply add that it will be another great learning experience where we'll share both photography and life.
Not to be missed especially by my repeat students who are always very eager to follow me everywhere I create a new course.
EB
To receive further info and the cost of the workshop please write to: ernesto_bazan@hotmail.com or bazanphoto@yahoo.com
Refund Policy
I rely on your attendance to organize many of the workshops' logistics, so if for any reason you decide to no longer attend the workshop, please notify me at least 60 days before the start of the workshop. At that time I will refund your full deposit. If you cancel between 30 and 60 days before the start of the workshop I will retain  $200 as a cancellation fee. If notification is made less than 30 days before the start of the workshop no monies will be refunded to you.
Please note that in case of exceptional and unforeseeable circumstances such as hurricanes, earthquakes, major floods, tsunami, a war or governments' change of policies in the countries I teach courses, BazanPhotos will only offer as a refund a new workshop in any of the other venues during that same calendar year. No other forms of refunds will be available.
---