---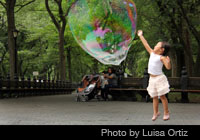 New York, New York. The most multi-ethnic city in the world, the city that never sleeps. I don't have to provide any further description for this metropolis that embraced me with open arms when I was only 19 year old. In this city, the Mecca of photography, I became a photographer; in this city I took my first pictures of this generous new land; in this city I worked on my first photographic book on the Italian-American community.
Like in Sicily and other countries the workshop will give my students the opportunity to photograph the lively streets of this amazing city and capture its essence. From Coney Island to Central Park, from Chinatown to the Bronx the students will have many subjects to choose from.
I will urge all students to select only one subject and probe it for the whole duration of the 10-day workshop. You will be learning a great deal on how to develop a story; how to edit only the strongest images, how to choose only photographs that can capture the essence of a moment.
The headquarter will be my house in Brooklyn where all the editing and critique of the students' work will take place. Film processing and printing will be done daily.
You will have access to my photographic book collections. Many good books will be looked at and critically analyzed in order to understand the importance of laying out, sizing, sequencing and editing.
Participation will be limited to only 14 students. Considering the enthusiasm with which the workshop has been welcomed by some of my students, I know that it will be a very sought after workshop. I'd urge you to enroll as early as possible to secure a space. EB

To receive further info and the cost of the workshop please write to: ernesto_bazan@hotmail.com or bazanphoto@yahoo.com
Our meeting place in Brooklyn
Our first meeting in NY will be at my home in Brooklyn at 361 Pacific Street on the first day of the workshop at 10am. For subway or car info on how to get to my house please write me an e-mail. My house will be the place where we will edit and select daily all of your work.
Refund Policy
I rely on your attendance to organize many of the workshops' logistics, so if for any reason you decide to no longer attend the workshop, please notify me at least 60 days before the start of the workshop. At that time I will refund your fee minus $200 cancelation fee. If you cancel between 30 and 60 days before the start of the workshop I will retain $250 as a cancellation fee. If notification is made less than 30 days before the start of the workshop no monies will be refunded to you.
Please note that in case of exceptional and unforeseeable circumstances such as hurricanes, earthquakes, major floods, tsunami, a war or governments' change of policies in the countries I teach courses, BazanPhotos will only offer as a refund a new workshop in any of the other venues during that same calendar year. No other forms of refunds will be available.
As always, I look forward to seeing you in New York and please help me to spread the news.
---