---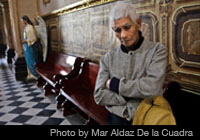 Oaxaca has always been of my favorite photo destinations. Its untouched beauty with its well-preserved colonial architecture and the vivid life in and around the city has made me decide to create a new workshop there. The city, that offers a delightful dry climate all year-round, is a very fertile and fascinating place to take pictures.
We will have plenty of time and opportunities to photograph Mexican daily life at large and the intimate celebrations for the Day of the Dead. Since 2012, after more than ten years of teaching the workshop in and around Oaxaca, I've decide to expand the exploration the the Sierra Norte where the locals celebrate in their own way.  It has been a major move and the work of my students has been fantastic. In our daily outings we will travel to several villages searching for significant moments. We'll also take buses to photograph the colorful local markets and the constant flow of daily life. Just take  a look at the latest students' galleries to better understand the level and quality of the work created by my students.

As in all the other workshops I teach, my ultimate goal is to help each participant to create an appealing body of work with personal strong individual images. Each student will be encouraged to develop his or her own photographic language and to search for the invisible thread that ties a story together. I'll help you to improve your ability to see and create new photographs, to discover your hidden potential. It will definitely be a valuable educational experience where you will develop the skills to look at your own work more critically, to appreciate and discuss yours and other people's work by learning a new visual vocabulary. Our final objective is to produce a series of revealing, lasting images that will display a sense of the place, of its people and traditions. You will return home with a new commitment to your work and your creativity.
I'll simply add that it will be another great learning experience where we'll share both photography and life.
The afternoon of the first day, we will have the first group meeting where we will discuss all the logistic aspects and prepare for the next day shooting.

Everyday you will shoot both in the morning and afternoon. Daily we'll have our now "famous" communal editing sessions where you will also hear all the other  participants' opinions. This personal way of editing has given amazing results and multiplied the ability for each student to greatly learn.
After a few days, we will move to the Sierra Norte where we will be spending several days taking pictures and editing your images. You will be able to see stunning landscapes and unspoiled, beautiful woods.

At the end of the workshop we will select your best images and possibly create a sequence, which will give you a better sense of how you construct a book. We'll also look at prints and have group discussions on everybody's work. I will spend quality time with each one you both during the critique sessions and on our daily photographic outings.
I'll also carefully review all your portfolios. I'll also show my books from my Cuban trilogy (Bazan Cuba, Al Campo and Isla) and other Latin American countries where I've been working for over a decade. EB

To receive further info and the cost of the workshop please write to: ernesto_bazan@hotmail.com or bazanphoto@yahoo.com
Accommodation
In Oaxaca, we'll be staying in a very quaint old colonial hostal in the beautiful neighborhood of Jalatlaco. It has a great shadowy patio where we'll be having our daily meetings.
Travel
Oaxaca is easily reached by plane from the States through Mexico City. Several daily flights are available. Check with your travel agent or with the airlines for the most convenient way to get there. You will be arriving to Oaxaca in the late morning of the first day of the workshop and return to the US on the morning of the following morning of the last day of the workshop.
Meals
Food is simply great and rather inexpensive. Expect to pay no more than $30 to $40 a day for meals daily.
Refund Policy
I rely on your attendance to organize many of the workshops' logistics, so if for any reason you decide to no longer attend the workshop, please notify me at least 60 days before the start of the workshop. At that time I will refund your fee minus $200 cancellation fee. If you cancel between 30 and 60 days before the start of the workshop I will retain $250 as a cancellation fee. If notification is made less than 30 days before the start of the workshop no monies will be refunded to you.
Please note that in case of exceptional and unforeseeable circumstances such as hurricanes, earthquakes, major floods, tsunami, a war or governments' change of policies in the countries I teach courses, BazanPhotos will only offer as a refund a new workshop in any of the other venues during that same calendar year. No other forms of refunds will be available.
 Frecuently Asked Questions
---
What type of clothing do I need to bring to the workshop?
It's advisable to bring both warm and summer clothes and a raincoat or umbrella. We might encounter sporadic rain especially during the time spent on the sierra de Juarez where temperature tends to drop considerably at night. You might also want to bring long johns or a warm pajama.
Trekking shoes are also recommended.
The average temperature in October and November oscillates between 15 to 28 degrees Celsius in Oaxaca and from 10 to 28 degrees Celsius in the Sierra Norte.
---
Can I drink the tap water?
It's always advisable to drink bottled-water, which is easily available everywhere. You are also advised to drink two liters of water per day to help adjust to the altitude.
---
What about food?
It's always advisable to eat food prepared in clean and safe establishments. Having said that, we sometimes eat at some family-run eateries where local food is prepared before our eyes. Mexican food is delicious.
---
Is it easy to exchange money?
Foreign currencies including dollars and euros can be easily exchanged at banks, currency-exchange places. You can also withdraw money directly from your ATM and credit cards for a fee. You might want to contact your bank before you come to learn about fees and where to find the nearest branch in town.
---
Visa
All European Community and American citizens do not need visa to enter the country. You will simply need to fill out a tourist form before entering the country.
---