---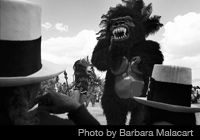 The legendary city of Cuzco – up in the Peruvian Andes – famous for its strong indigenous culture will be the source of inspiration of this new workshop that I will be teaching.
We will be staying there for ten days taking pictures of daily life in this beautiful city and some of the outlying villages. During this workshop you will have a distinctive feeling of having stepped back into a past century.
All participants are advised to arrive to Lima at least one day before the workshop begins to get some needed rest and acclimate yourself before catching the plane to Cuzco early the next morning.
Our first meeting will take place in the hotel in Cuzco.

On the first morning you will have several hours to drink some mate tea to adjust to the altitude and to prepare for our first meeting in the hostal where we will be staying.
On the last day of the workshop we will complete the final editing of each photographer´s work along with the sequence of all the pictures selected.
Each morning we'll go out shooting in the Sacred Valley by visiting villages such as Ollantaytambo, Pisaq, Urubamba, Maras, Taray, Huilloc.

We will have the opportunity to photograph and share the villagers' daily life.
During these ten days in the Sacred Valley, we will primarily concentrate in seeking out the essence of daily life in its myriad nuances. With the same enthusiasm and honesty, I will help all of you capture some of those little surprises that photography constantly reveals to us.
On a daily basis, we will walk together around the corners of this palpitating rural areas; we will photograph the flow of life unfolding before our very eyes in the small pueblos full of mystery and magic. During the workshop I will show you my work from Cuba and Latin America and we will have the opportunity to analyze and critically discuss it.
We will also find time to enjoy the music, the culture and the charm of this precious colonial town.
Every day, we will have both one-on-one editing sessions and group meetings in which the whole class will discuss many photography topics such as framing, composition and content within the context of individual images.
At the end of the workshop, we will choose the best images of each student. With your permission, two images by each participant will be selected to be included on students' gallery section in my web page.
For those of you that have already had the opportunity to take a workshop with me, I'll only add that you are in for another great learning experience, as we'll be sharing both photography and life.
As in all the other workshops I teach, my ultimate goal is to help each participant create an appealing body of work with personal strong individual images. Each student will be encouraged to develop his or her own photographic language and to search for the invisible thread that ties a story together. I'll help you to improve your ability to see and create new photographs, and to discover your hidden potential. It will definitely be a valuable educational experience where I'll teach you to develop the skills to look at your own work more critically, and also to appreciate and discuss yours and other people's work by learning a new visual vocabulary. Our final objective is to produce a series of revealing, lasting images that will display a sense of the place and of its people. You will return home with a new commitment to your work and your creativity. EB

To receive further info and the cost of the workshop please write to: ernesto_bazan@hotmail.com or bazanphoto@yahoo.com
Travel to Cuzco from the US
From many US cities there are several American air carriers flying into Lima, Peru's capital. Please check with your travel agent and start making reservations ahead of time to secure availability and a good fare.
Refund Policy
I rely on your attendance to organize many of the workshops' logistics, so if for any reason you decide to no longer attend the workshop, please notify me at least 60 days before the start of the workshop. At that time I will refund your fee minus $200 cancelation fee. If you cancel between 30 and 60 days before the start of the workshop I will retain $250 as a cancellation fee. If notification is made less than 30 days before the start of the workshop no monies will be refunded to you.
Please note that in case of exceptional and unforeseeable circumstances such as hurricanes, earthquakes, major floods, tsunami, a war or governments' change of policies in the countries I teach courses, BazanPhotos will only offer as a refund a new workshop in any of the other venues during that same calendar year. No other forms of refunds will be available.
Frequently Asked Question 
---
What type of clothing do I need to bring to the workshop?
It's advisable to bring both warm and summer clothes and a raincoat, and an umbrella. We might encounter sporadic rain especially during the time spent on the sierra around Pisac and Cuzco where temperature tend to drop considerably at night. You might also want to bring long johns or a warm pajama.
Trekking shoes are also recommended.
The average temperature oscillates between 15 to 28 degrees Celsius.
---
Can I drink the tap water?
It's always advisable to drink bottled-water, which is easily available everywhere. You are also advised to drink two liters of water per day to help adjust to the altitude. We also encourage each student do drink muña and coca leaves tea.
---
What about food?
It's always advisable to eat food prepared in clean and safe establishments where Ernesto all take you to. Having said that, we sometimes eat at some family-run eateries where local food is prepared before our eyes. Peruvian food is delicious.
---
Is it easy to exchange money?
Foreign currencies including dollars and euros can be easily exchanged at banks, currency-exchange places. You can also withdraw money directly from your ATM and credit cards for a fee. You might want to contact your bank before you travel for security reason and also to learn about fees charged for each withdrawal and where to find the nearest branch in town.
---
Visa
All European Community and American citizens do not need visa to enter the country. You will simply need to fill out a tourist form before entering the country.
---