---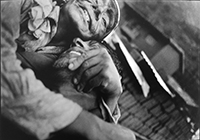 As some of you know, I strongly believe that the late and great Peruvian photographer Martin Chambi has been guiding all my wondering in his country since the very first time I set foot here over twenty years ago. It has been a slow journey that hopefully one day will see its light!
The other day as I was wandering in the small village of Misimay, Martin gave me the green light to teach my first 10-day workshop here at Carnival time.
Like in all my workshops the idea is simple: get lost among the many Peruvian villages during the ancient celebrations where communities come together and celebrate the sacred bonds of life.
The plan call for an early arrival to Cusco the very morning of the 26th of February (within 10 am) or a day prior on the 25th of February. From Cusco we will be going to our headquarter in the beautiful hotel submersed in nature in Pisac from where we will be daily traveling to the various hamlets where the carnival celebrations will be held. Each day it will be a unique opportunity to experience and photograph the revels and celebrations where locals wearing their traditional clothes will be dancing and partying all together.
Each morning prior to our journeys we will do our daily editing of the best images taken by each student the previous day. As always, I'll share with my students some of my upcoming book projects along with some of the ones by the talented photographers who have been studying with me over the years.
The more I teach the more I feel that the spiritual quality of my workshops is making itself visible more and more each step of the way! The latest workshop held in May 2018 has only been the confirmation of that. The images taken by each student are the living proof of what I believe.
I will probably teach this course only once! Just the students who are meant to come will join me in this new journey! And I will continue to follow the path laid before me! EB

To receive further info and the cost of the workshop please write to: ernesto_bazan@hotmail.com or bazanphoto@yahoo.com
Travel to Peru from the US
From many US cities there are several American air carriers flying into Lima, Peru's capital. Please check with your travel agent and start making reservations ahead of time to secure availability and a good fare. From Lima you also need to book a domestic flight to Cusco.
The plan call for an early arrival to Cusco the very morning of the 26th of February (within 10 am, 2019 or a day prior on the 25th of February, 2019. From Cusco's airport we will be going to our headquarter in the beautiful hotel submersed in nature in the town of Pisac where we will be staying for nine days of the workshop. We will be returning to Cusco the last night of the workshop where we will do the final edit. The morning of the 8th of March you will return to Lima from Cusco and then from Lima back home.
Refund Policy
I rely on your attendance to organize many of the workshops' logistics, so if for any reason you decide to no longer attend the workshop, please notify me at least 60 days before the start of the workshop. At that time I will refund your fee minus $200 cancelation fee. If you cancel between 30 and 60 days before the start of the workshop I will retain $250 as a cancellation fee. If notification is made less than 30 days before the start of the workshop no monies will be refunded to you.
Please note that in case of exceptional and unforeseeable circumstances such as hurricanes, earthquakes, major floods, tsunami, a war or governments' change of policies in the countries I teach courses, BazanPhotos will only offer as a refund a new workshop in any of the other venues during that same calendar year. No other forms of refunds will be available.
Frequently Asked Question
---
What type of clothing do I need to bring to the workshop?
It's advisable to bring both warm and summer clothes and a raincoat, and an umbrella. We might encounter sporadic rain especially during the time spent on the sierra around Pisac and Cuzco where temperature tend to drop considerably at night. You might also want to bring long johns or a warm pajama. Trekking shoes are also recommended. The average temperature oscillates between 15 to 28 degrees Celsius.
---
Can I drink the tap water?
It's always advisable to drink bottled-water, which is easily available everywhere. You are also advised to drink two liters of water per day to help adjust to the altitude. We also encourage each student do drink muña and coca leaves tea.
---
What about food?
It's always advisable to eat food prepared in clean and safe establishments where Ernesto all take you to. Having said that, we sometimes eat at some family-run eateries where local food is prepared before our eyes. Peruvian food is delicious.
---
Is it easy to exchange money?
Foreign currencies including dollars and euros can be easily exchanged at banks, currency-exchange places. You can also withdraw money directly from your ATM and credit cards for a fee. You might want to contact your bank before you travel for security reason and also to learn about fees charged for each withdrawal and where to find the nearest branch in town.
---
Visa
All European Community and American citizens do not need visa to enter the country. You will simply need to fill out a tourist form before entering the country.
---