Virgin of Guadalupe
Virgin of Guadalupe, Mexico 2018
---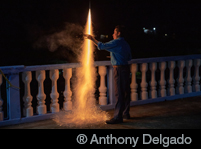 I watch over the beautiful spectacle of cobblestones narrow streets, small, ancient buildings built with the same local dark stones. We are in the heart of one of the most untouched indigenous part of Mexico: Cuetzlan.
We begin in this manner the 6th workshop devoted to the Virgin of Guadalupe. Along with Juan and I the four students destiny has chosen: Anthony who is returning after the workshop Easter in Sicily, Ana, Carlota y Malgorzata from Poland.
Although we only spend two days in the region it makes me decide to devote next year workshop to this special and intimate area.
We continue on spending two days in the area between the two volcanoes Popocatépetl and Iztaccíhuatl where thousands of pilgrims climb on their way to the Basilica of the Virgin in Mexico City. The beautiful light is filtering through the trees and vegetation. Then we hear an explosion: the Popocatépetl has just released a huge cloud of white smoke. We try to capture this big mushroom before it vanishes.
The editing sessions are always useful and help the students with their photographic growth.
In the final days spent in Mexico City we finally manage to photograph the day in which all the clowns pay respect to Guadalupe. We follow them along the long avenue that leads to the sanctuary. Special moments unfold before our eyes. We need to stay close in order to avoid the unstoppable chaos around the beautiful moments. With a bit of luck and faith, we manage to do so! Each student manages to capture some beautiful photos of these unique moments.
Next year Cuetzlan with its two Virgins of Juquila and Guadalupe is waiting for us!
EB
---