Two Picture a Day

Oaxaca, Mexico 2018
---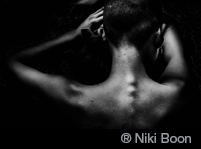 End of October, Oaxaca 2018. It's Day of of the Dead time again.
I'm returning (again) for the eighteen year in a row. I feel it's thanks to a theurgy that I keep returning. I look back at the memories of past years. There cannot be any other explanation of having had the health, the time, the students and the desire to go for such long and uninterrupted time. So many good memories, so many pictures both by my students and I. I hardly remember mine. It's time to go back into the darkroom. The contact sheets are becoming more an more my historic memory!
Besides Juan and I, we had the great pleasure to be with two lovely and super sensitive women: Linda Hollinger, a habitué of my workshop where she always brings her grace and immense talent and Niki Boon all the way from New Zeland via Canada. To me Niki is one of the photographers in the world that has taken some of the most intimate images of her own family in the farm they live.
As she put it: she was coming out of her confort zone to face a reality unknown to her.
She had more energy that all her young children together, always ready to go out with rain, fog or sun after the rest of us were totally wiped out.
Saying that we had an amazing workshop would be a bit reductive term.
The skies and the roads opened up to us in such a powerful and uncanny way that each day we found ourselves talking about each single experience such as being invited to a funeral, a funeral wake by total strangers who kindly opened up their homes.
As always, being tough and eloquent in the morning editing sessions was of great use along with long and engaging conversations while driving.
Food delicious as ever! The images that Linda and Niki took speak for themselves and don't need any additional comments.
What remains are each single memory of the days we shared including the magic mushroom ceremony that brought so much peace and health into our lives.
EB
---