Napule
Naples, Italy 2018
---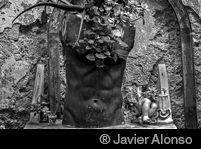 I'm back in Naples for the fifth year in a row! Each year I enter more into the veins of this city both ancient and decadent, made of extremes, contradictions, rough and delicate, utter beauty and complete ugliness!
Konrad is returning for his third consecutive time: he's becoming a connoisseur of some of its many secrets. David, Javier and Julia are here for the first time.
I lead them into her bowels trying to show what has become relevant in all these years.
The lively streets of the old neighbourhoods, churches, the water promenade, the markets, the beaches, the parks, Pulcinella, abandoned factories and villages continue to be the preferred subjects of our adventures.
As every year, some of my Neapolitan photographer friends like Barbara, Elena, Andrea and Salvatore loyally show us around new places.
As always, I make my students walk for miles on end. Naples needs to be explored on foot if you want to try to capture its essence. I break my all-time-record and walk 27 km one day.
This makes us particularly hungry and we are always eating delicious food from incredible pizzas to fish, octopus, and sweets. Good Neapolitan coffee and gelato are always within reach and we indulge whenever we can.
Each student comes up with unique images. We do wonderful editing of their previous work and I also share some of my new work.
I realise that I've yet need to print some images from these first five years to begin understanding what my intuition is guiding me to feel of this quintessential city! Hopefully time will allow me!
EB
---