9 Samurai

Valley Sacred, Peru 2019
---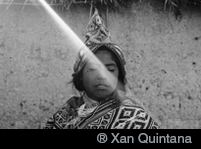 The Nine Samurai group during the Sacred Valley Carnival just ended. Without doubt probably one of the best of my life. The students and I united at such a deep level that is difficult to describe. Photography was only part of it, being generous to one another, to strangers that came our way and doing all together the temazcal ceremony was the icing on the cake. Spending two hours in this long and very hot sauna during which we were reborn again after going through the pains of the unbearable heat made us Samurai.
The daily editing sessions played a major role in the final outcome and we felt the happiness that we all shared.
Many good memories including walking for three hours to the sacred ground where birds-like men danced around beautiful mountains shrouded in fog and around a lagoon before courting young women; all the small carnivals we found along the way almost by chance and the very generous people met along the way including Berthaliz and her family who are now our friends and we will be definitely seeing them again next year, cook together and go to a carnival by some Inca ruins.
The workshop was also very important because we were able to edit in a profound way the work by all students: Alexander, Calvin, Francesco, Juan, Patty, Milton and Xan; some of them have been working for years at photographic book projects unique and personal and we also did manage to put the finishing touch on Giorgio Negro's book, Pathos.
A few months ago, as I was editing and sequencing his body of work, I realised that although he had taken several workshops with me in the Sacred Valley, no picture had made it to book's selection. I simply told him: "I think you should come." He followed my advice. At the end of the workshop we added 9 beautiful images to the book. On the last day, along with the other 8 students, we inserted the new images within the existing sequence. This is what I continue to call choral editing: hearing all the voices in the group to improve on all aspects of the project. It was truly moving to see of each student gave his or her best to make sure that the book will look impeccable.
This strong sense of feeling close helped me as well when I shared with them my next book project on my returning to Cuba after a ten years absence. Some pictures were brutally and kindly eliminated, many suggestions helped me restructure the ongoing sequence and overall look of this unimaginable book. All together they were simply brilliant and loving as always!
I feel very tired but very happy that all together we made this new workshop so unique and special. It will be repeated next year! EB
---