Non Basta!

Master series with TOMASZ TOMASZEWSKI
Sicily, Italy 2017
---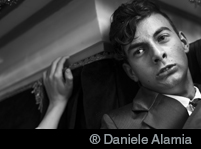 It hasn't been just another photographic workshop. It was rather a kind of unique and special moment in my life. Talking about photography and sharing experiences with my soul brother Ernesto Bazan. It was simply a gift that I will cherish in my hart for a long, long time.
I had a feeling that our students, and it was a big group this time, 16 photographers, felt this same way. Friendly atmosphere, intelligent conversations made me feel nothing but joy.
The accesses to the several Easter processions provided by Ernesto helped the students get strong and very intimate pictures. What a great satisfaction to both of us.
I can't find the proper words to recommend this workshop to those, who are looking for their own style and individual expression in photography.
Big hugs,
Tomasz Tomaszewski
---
The Easter workshop is over and I'm finally at home in Palermo with my mother, and I have the privilege of sharing with her my new book Before You Grow Up. It's a miracle that she's next to me as she's leafing through the pages.
The course has been intense as always. Tomasz's presence has fulfilled my dream: the two soul brothers, as he described us in front of all our students, have finally come together to this island where I first saw light! All the sixteen students were enthralled for the uniqueness of our teaching; they rhapsodized for the way we complemented each other in the way we critiqued their daily work, they were rapturous for how we shared our experience, our images, our lives.
As Tomasz pointed out, we have been fortunate that we had such a special group of students with us: caring, devoted, focused. They cosseted us in may different way, they supported our work with their faithful presence.
Buseto, Trapani and Marsala and their people welcomed us in a very special way with their kindness and openness. Gigi crying over my shoulder, Andrea proudly carrying the statue with his father and relatives, and me being allowed to carry the statue with the Salinari guild for a few minutes are among the vivid moments that will stay with me forever.
And slowly some images drenched in poetry began to surface, to reveal themselves to us. But it was far from easy to capture each single one. As time went by, each student began to slowly find his or her voice. Applauding was our way to express our support along with many toasts. During the final slide show religiously prepared by Tomasz the images by Ana, Barbara, Chris, Daniel and Daniele, Ewa, Francesco and Francesco, Isabel, Linda, Marzena, Malgorzata, UK Mike, US Mike, German Mike and Regula took form as coherent bodies of work in which poetry and intimacy prevailed.
My sweet assistant Davide was very helpful and determined to make sure that the complexes logistic run smoothly!
The morning walks, the infinite hugs that Tomasz and I gave to each other daily, the amazing food we had, and the wines and the single-malt did the rest. The group Non Basta! has really united us all in a beautiful and spiritual way. Till next year!
EB
---