Estoy Llorando

Cuzco, Peru 2017
---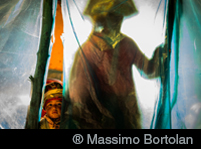 Estoy Llorando, I'm crying was the only words that Calvin could uttered during a review of his work when an image was not chosen by me and the rest of the group. We did a lot of crying with him, Sandra la llorona, but mostly it was for good reasons like when I shared with all of them my new book Before You Grow Up. I will always remember Sandra and Calvin's sweet tears or Milton's sentence upon reviewing the book: "Ernesto you should feel proud that you have been a good father."
Another special moment was finding with Monica, Marcos, the 11-year-old boy who saved our life last year as we were getting lost while we were trekking up the mountain. We found him in his school. He had a broad smile when he saw us. We hugged. Then we met him again at his house.
We gave him a few simple presents that we had brought for him.
And then there was an intense and beautiful workshop with Alessandro, Calvin, Chad, Elisabeth, Linda, Massimo, Milton, Monica, Sandra and Sissy!
Despite the cold and inclement weather some beautiful images began to surface daily. Besides doing their daily editing of their work, we also edited other personal work by Calvin, Milton, Monica, Sandra and Chad. After carefully reviewing each body we were able to see and feel the progress made in their personal path. We all agreed that Chad's images taken over a period of seven years with me here in the Sacred Valley will be a future book. More tears, more raw emotions, more hugs.
The new students to this workshop: Alessandro, Elisabeth, Linda and Massimo added an additional layer to the group. They were fun, adventurous and talented. Each day the group got closer. I got to speak more Italian than ever with Alessandro and Massimo, young, full of energies, generous and respectful.
The walk with our shepherd friend Andres above 4.800m to the sacred Apus (mountains) was unforgettable. My gazelle Sissy surprised all of us with her nonchalant climb all the way to the top. It was special for all us despite the rain and the cold. It was another life-affirming walk: ours! For this we are all crying of HAPPINESS!
All the beautiful images that each student took are now visible along with these words of theirs and mine in the students' gallery.
I can only be grateful to life for all that we lived and shared!
EB
---