Winding Dirty Roads

Virgen de Guadalupe, Mexico City 2016
---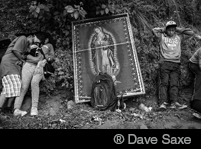 This workshop is the last workshop of the year in December, and it's not easy to get too many students, but I'm moved from my profound faith in the Virgin of Guadalupe and I need to return over and over again!
As I'm driving my old, red Honda Civic with Juan next to me, David and Yael in the back, we are listening to Let It Be, one of my Beatles' favorite songs.
When I find myself in times of trouble
Mother Mary comes to me
Speaking words of wisdom
Let it be
And in my hour of darkness
She is standing right in front of me
Speaking words of wisdom
Let it be
The lyrics seem very appropriate and encourage me to inspire my students and myself.
I realize that I've never printed so far not a single image of all the work I've done in all these years. Hopefully soon I will!
Juan, David and Yael are good company and we share some fun time together from Puebla to the foot of the Popocatepetl volcano, and then towards Mexico City all the way to the Basilica where over five million people are coming to pay their respect.
I'm glad to help them both with their work. The images speak for themselves.
Till next year! I know that I'll return to renew my faith in the Mother of all Mexicans!
EB
---