Slange Var

Naples, Italy 2016
---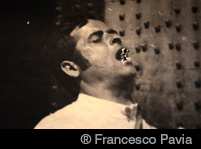 Naples continues to slowly reveals herself as a sensual and shy woman: a bit at a time. I've been photographing her voluptuous body for the last three years.
Her darkness is always present and it never stops surprising me. I continue to lead the students in the meanders of her entrails. We visit abandoned factories, mental institutions being swallowed by nature, dark catacombs where people leave small images and rosaries over dusty skeletons; we take pictures of her lively streets and her generous people that open their homes to us.
Along with Colin, Francesco, Harald, Jessica, Konrad and Regula we are fascinated but the variety of subjects we are able to photograph.
We continue to travel to the island Procida where her slowness takes you to another time. And then we finally see the royal palace of Caserta with its wonderful English garden.
And what to say of the coffee, of the pizzas and of all the wonderful Neapolitan food including octopus that we savour daily? We all have become addicted!
The exploration must go on if I want to continue capturing the essence of this femme fatale! I simply can't wait to return.
EB
---