Sin Duda

Sicily, Italy 2016
---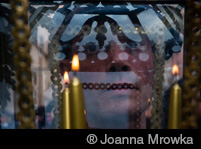 Sin duda,  the name of our workshop, without a doubt, I knew that returning to my island for Easter for the fifteenth year in a row was going to be a very special event. And, of course, it was so!
I had the privilege to be accompanied by a good group of people and the gelling among all of us was almost instantaneous.
David Myers was breaking all records by returning for his fifth in a row workshop with me at Easter. As he wrote it was a very pivotal point for his vision and the personal project he has been working on:"This year's workshop felt as if I had turned a new chapter in my work. Everything seemed to slow down, the pictures came more naturally, I stopped thinking so much about constructing a picture, I didn't worry about the number of pictures and focused more on whether I had a few good pictures that were my pictures, I learned more from others in the workshop, and I let myself better engage with the experience, the people, and the landscape."
What we both found amazing after looking at, along with the rest of the class, all the images he has taken here over the course of five years was that for his project to become more intimate and special, David needs to start shooting elsewhere. It might sound like a major contradiction, but it is not.
And it was so lovely to have met for the first time Al and Fabiola Forns, an adorable Cuban couple living in Miami: my first 100% Cuban students; then we had Barbara Di Maio who was a great addition with her good energy and she had great jump forward with her photography; then we had the special presence of Lori Barra, my walking companion every morning, with whom we shared so much during the precious time we had together; and then we had the Polish contingent made up of Joanna Mrowka and Krzysztof Przybylski, both with their good energy and talent.
Staying at this lovely boutique hotel run by a famous chef was another special treat for all of us particularly for the incredible Sicilian food that we had the fortune to savour daily.
The fog in the cemetery, and the rain during the processions were additional gifts along with the intimate exhibit we organised remembering Sergio Barra, my Mexican student who suddenly passed away. His images along with David's were beautifully displayed by my assistant Giorgio inside a church in Trapani.
We all left with some good memories inside. Next year, another dream comes true: my dear friend and great Polish photo master Tomasz Tomaszewski will be joining me here to share our teaching philosophy. A unique treat for each of the lucky student who will come to join us! I'm so very Happy!
EB
---