Huevos, Cerebro y Cojones

Virgen de Guadalupe, Mexico 2015
---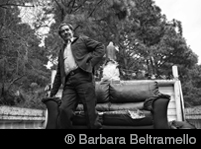 After walking with Juan 70 k last year, it was time to put our common experience into practice by organizing this first experimental workshop in which we followed the pilgrims on their faithful walk from Cholula, Puebla to the Basilica of the Virgin of Guadalupe in Mexico City.
Having a small group of talented students allowed me to fulfill my dream and to probe the work that I've been doing for the last three years on the Virgin considered by many the Mother of all Mexicans.
In the days spent together I had the unique opportunity to be able to help my students Giorgio Negro and Juan de la Cruz to edit their upcoming books, respectively Latin Americas and The Labyrinth. The beauty of it all was that my other students Barbara and Francesco, all Italian, they also greatly helped with their input and feedback.
I'd say that it was the toughest editing both projects went through. Many good images got eliminated. What remained acquired even more vigour. We could hardly believe our eyes of what we had done together!
The same faith was bestowed on my family project Before You Grow Up… Barbara was particularly profound with her insightful advice on things to eliminate and tight. She has been promoted to senior editor of BPP.
Besides all this wonderful work, we also greatly enjoyed taking pictures, editing daily what the students did and, as always, eat and drink well. Mescal was our loyal companion in the many dark and cold nights. Some unique images have come out of the workshop, but even more importantly our bond.
The Group Huevos, Cerebros y Cojones is the finishing touch of this incredible year of soulful and spiritual workshops. I feel blessed. Happy Holidays to all of you that have been my companions in so many adventures. EB
---