A Gringalhada
Salvador de Bahia, Brazil 2015
---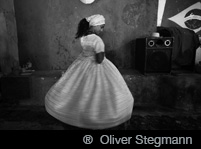 Back in Bahia to photograph Iemanjà again! A good group of students accompanies me. It feels good to breathe the salty air, the pervasive smells that bring back many memories.
We continue to explore this city with its many facets. The old market of Sao Joaquin, which is slowly disappearing, the Toste abandoned building with the families still living there. With Alessandra, Bruce, Colin, Fabia, Janet, Oliver and Romain we wonder in the city of lights and shadows for a few days before heading to Cachoeira and its surrounding rural, beautiful areas. The Iemanjà celebrations continue here, but in a much smaller scale, they are more intimate. We jump on a boat and photograph the devotees as they enter in a trance before our very eyes. Magical moments unfold; reveal themselves to peter out immediately. The usual distracting elements blighting our images to fight against. But the result of the students' work is wondrous: as I like to say a true miracle!
As we sip our usual caipirinhas and eat the delicious Bahian food we talk gregariously about our days together, the many wonderful epiphanies we shared, the pictures that will remain and that will bring back memories to all of us. The workshop's end is drawing nigh. I don't even have a rest day: the Carnival workshop is about to begin. I'm tired but happy to have been able to spend time with Alessandra, Bruce, Colin, Fabia, Janet, Oliver and Romain. Through their beautiful images the glint of our collaborative effort will always shine.
EB
---