Tudo Bem, Tudo Legal
Chiapada Diamantina, Brazil 2014
---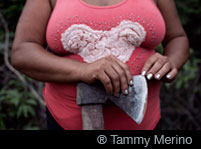 Again in Chapada, again in Bahia together with two of my best students, Romain and Tammy, and my beloved Sissy. We spent and lived unique moments. With the passing of time we continue to get to know more in depth some families that receive us with great warmth.
The two sweet little girls Natalia and Vitoria and their grandma welcome us with open arms and, as always, create extraordinary scenes together with some of their visiting cousins. For the first time we are invited to have lunch with them; for the first time, we go out and we let ourselves to be lead towards a stream full of butterflies that lie in group before fluttering about happy.
In Andarai, Carmina and Orlando open their house and the Jarè temple to us with their profound sense of hospitality. We share our life; we photograph them together with their numerous nephews in the daily quotidian but sacred existence.
From Chapada we transfer to Reconcavo where I meet up with Sissy. I go pick her up at the bus station. I will always remember her happy look with her joyous smile as she sees me from the bus window.
The exploration continues and we manage to visit a small island facing Cachoeira on the Paraguacu river where the mythical Mata Onza transships us with his canoe. We follow him in single file while he moves towards the coops to feed his many chickens.
Trying not to interfere with one another we try to photograph the rituality of his gestures. He then brings us to see hundred of magpies that with night approaching find their spot on the fronds of the trees bathed by the river. It's a magnificent spectacle!
We try to photograph this concert of fluttering wings and the birds' endless squawking.Slowly we retake our place on the canoe and return to the other bank. We thank him and give him our small contribution. Mata Onza refuses it and only after various attempts he finally accepts it.
The days continue to unravel sweetly always searching poetry in the moments that life bestow upon us. Together with Sissy we return to the abandoned sugar mill where we meet again with the fishermen families living in their adobe houses. A man is curved before a window watching the delicate landscape before his eyes. I insert him in the viewfinder framed by the window and snap a few images. Romain nears me and try to take the same scene. We work together without getting in each other's way. In the end, he has managed to take a very fine image. Also Tammy has managed to capture beautiful moments. Both continue with time to deepen their work in Bahia. I'm proud to see how the diversity of their glances makes them create superb but diametrically opposite images. Take a look at their images and you will better understand my words.
EB
---