L´Avventura

Oaxaca, Mexico 2014
---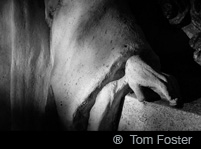 Extending the workshop of only two extra days and exploring new and remote areas of this magical land created a true avventura.
Old and new students mingle together, share life, experiment with the purer form of mescal: silvestre. The magic potion continues to take some of the students' work to new heights.
We look at future books' projects by my students such as Giorgio Negro's. We point out and eliminate in our ritual "choral" editing some images that feel weaker. After Willard and Juan he will be next.
After 12 years of teaching this workshop, I feel that I'm beginning to scrape the surface.
We are getting more and more into the indigenous celebrations. I feel how different they are from what we have done so far.
We drink hot, dark, unsweetened chocolate from Majordomo, we eat the simple Mexican food like tacos al pastor, enfrijoladas, tlayudas and continue to wash it off with mescal silvestre at night in the newly discovered and exclusive pub.
My students deliver some amazing, beautiful images. What else can I ask for?
I have no choice but to extend next year workshop to 14-day. Are your ready?
As I like to say, only the predestined, sensitive men and women will come.

EB
---