Nosotros y Los Otros
Oaxaca, Mexico 2013
---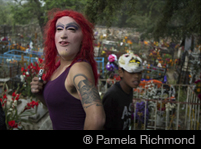 When in a workshop you have one student who's 81-year-old and who is sprinkling amazing good energy from each pore of her skin; when you have another one who's giving individual hugs and kisses every morning to everybody; when you have a student who has brought with him the Nespresso coffee machine and generously shares delicious coffee with the entire group; when you have ten returning students who are not just your students, but they are also your friends; when we have this incredible supporting energy and everybody feels like helping everybody else; when we have mescal and all the amazing food that we have had; when I have my friend Juan and my wife Sissy with me, it becomes pretty clear that the workshop is going to be amazing and it's going to be even better than the marvelous workshop we just had last year. This is exactly what happened this year when along with my fourteen students we embarked upon a new Day of the Dead celebrations.
How can we forget the encounters in the cemetery both in Oaxaca and in the Sierra? How can we forget going from house to house under torrential rain with the comparsas and taking many group pictures with them, sharing food, sharing life?
How can we forget going down the zip line feeling alive and courageous as we were watching the sky and the clouds before our eyes as we were descending fast for more than a mile?
These are just a few of the things that we lived and shared. The images that everybody took speak for themselves. As I like to say, they are almost irrelevant compared to everything else that we got to live and share. We all left broken-hearted; we didn't want for this incredible experience to finish.
Next year, the exploration will continue. Prepare yourself for the first 12-day Day of the Dead workshop ever. There will be more driving and intimacy among all of us, for more mescal and amazing adventures, for more friendships.
I already know that many of the members of this new family are already counting the days down.
Thank you Aisling, Geralyn, Oliver, Pam, Sandra, Sergio, Silvia, Simone, Stacy, Stan, Tammy, Todd, Umit, Willem, Juan and Sissy to make the 2013 Day of the Dead workshop at BazanPhotos Workshops another extraordinary adventure. EB
---