Jemanja Bahia
Salvador de Bahia, Brazil 2013
---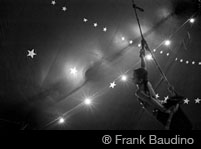 My first workshop on the celebrations for Jemanja here in Bahia has been full of epiphanies and blessings. I knew that it was going to be that way, but having had the confirmation after ten intense days charged with photographs experiences it makes me appreciate even more each moment shared with the eight students that have accompanied me.
The Goddess of the sea has shown her benevolence in different occasions including the one when together with Pam and Umit we found ourselves on a boat with two fishermen taking out to sea three devoted women carrying a basket with a big blonde air blue eyes doll with a beautiful, fake tiara around her head. Only a few minutes had gone by and one of the three women entered into a trance. I looked at the sky and I winked a smile. Pam's beautiful image eloquently describes our experience. The funniest thing was the boat's engine broke down and we were stranded for over an hour before another boat came to our rescue. Totally surreal!
The workshop offered us many other opportunities as you will be able to see in the images' selection: the dinner with the fishermen, the early walks on the beach, the moving and heart rending family-run circus that made us feel the profound significance of our existence.
The most pleasurable feeling as a maestro has been when I managed to help my first-time students to advance to a higher level. After the first days of struggle where we were not selecting any images slowly Chip, Connie, Dani and Heike began to produce interesting images. Their words filled with commotion and gratitude for having been able to go beyond after so much hard work fill me with joy.
Another motive for cheerfulness was to have been able to witness the great growth by Frank, Pam, Romain and Umit. All four of them had already been with me before here in Bahia.
Romain was even following his fourth workshop in a row with me here in order to continue the ever-deepening of his beautiful, intimate and personal color work. By taking images with color negatives we will have to wait the processing and printing of his rolls, but having been able to look at his work again and having helped me do a tighter, more severe edit of it has been a source of inspiration for all of us.
We will be patiently waiting to see the new images.
Frank was here for the third time and surprised us all with his new and profound syntony with Bahia that was conveyed by his new subtle and complex images. What a jump! Congratulation!
Pam, who turned 81-year-old during the workshop ( she loved to underscore that she was my mother's age, and when I told my mother about my student she cried over the phone:"I wanna meet your student."), was coming for her second workshop. She also made huge improvements compared to the ones taken in her first trip. Her love for life and her physical and mental agility served, as always, as an example to follow for all of us.
And finally Umit who had participated in the december workshop in 2010 returned with the determination to retake shooting in color. I believe that by taking a look at his old and new photographs you will have a clear idea of what he maned to accomplish with his vision. Bravissimo!
The program for next year has been perfected and improved on. And although I still haven't seen a single image of mine, I think that I'm very satisfied with my students' images. I can only add that I'm enthusiastically looking forward to return. Thank you Jemanja for having welcomed us with so much sweetness and generosity. Till next year!
EB
---