Ja Estamos Chegando Chapada
Chiapada Diamantina, Brazil 2013
---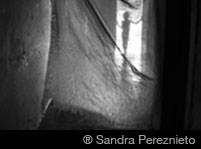 When in a workshop you cry and read together, when you walk for 50 k in three days surprising yourself for the reactive capacities of your own body, slowly but surely, it becomes evident that the person who is there with you isn't just a simple student that has come from Mexico via Barcelona simply to study with you to improve on her photographic skills.
My philosophy as a teacher continues to bestow upon us more than just workshops: it continues to reward us with life encounters that will always stay with us forever.
Feeling that the gift of teaching has to be always shared at all cost does not contemplate exceptions. Each time that I serenely go to meet my students I feel that as a confirmation that it couldn't be any different.
And as it always happens in my workshops, I'm the first one to learn life lessons from my students. This was so with Sandra. It's difficult now to say what I learnt: I can only repeat that I've learnt so much. I did my part as a teacher and "infected" Sandra with what she likes to refer to as the bazanite disease because it seems that lately she has become much more demanding both of her own and her friends work. Obviously, it's my fault, right!
The three-day trekking in the Vale do Pati so strongly desired for so many years, it has opened up new windows on this land that I love so deeply. Our funny guide was one of the many gifts in this blessed workshop. The delving continues: sky, clouds, majestic mountains, rivers, natural pools, simple and welcoming people and all the animals and flora that inhabit the region have become part of our photographic interest.
Thank you Sandrin for having followed your intuition, for having taught me so many things (first of all to take water with lemon juice first thing in the morning), thank you for having cured me, for having advised me along with the humming bird that always accompanies you.
Thank you for listening.
EB
---