Vayenle, Guadalupe Celebration

Mexico City 2013
---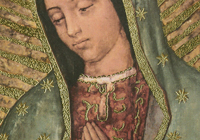 Since when I became a photographer almost forty years ago, I've always photographed expressions of faith because my photography was born from the faith in a dream that I had at seventeen.
Never have I had to share my conviction with three students and five millions devotees coming from all over Mexico.
It hasn't been easy to find the words to describe what we experienced. My students' images will, perhaps, tell it more eloquently.
I couldn't have closed the year in a better way. Thank you Stan for having suggested to teach this workshop and for having me accompanied me each step of the way. This year you and I have shared so much. Thank you Alessandro and Frank that with courage and determination have faced this workshop overcoming difficult moments. Finally, thank you to my friend Juan de la Cruz that with his loving presence and with his intimate photos has made our path a sweeter one.
Next year I'll be walking with thousands of worshippers from Puebla to Mexico City.
This year, as I was driving up I saw some pilgrims from the bus window. I wanted to tell the driver to stop.
I'll be willing to walk even by myself. My faith is great! Who has faith will follow me! EB Happy 2014 everyone!
EB
---