Mar…velous
Oaxaca, Mexico 2012
---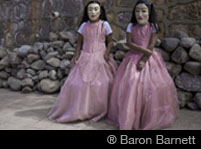 I'm back home resting a bit, enjoying the simple, beautiful things life has to offer. I'm going through all the images that we selected for this wonderful eleventh workshop in Oaxaca that just ended. It was a marvelous reunion of good souls as the name of the group MAR..velous reflects. Not even the Hurricane Sandy could deter our enthusiasm although three students got stuck in the US and couldn't join us.
The experience of working in the Sierra Norte paid off big time. As audacious explorers we charted new territories. Except for one new student, Oliver, who perfectly fit in, the rest of the group was made out of veterans who had taken at least three workshops with me.
After the first day students' review it became apparent that the level of photography was going to be high for the presence of many talented people. But as I said, the outstanding images taken by all students are almost irrelevant compared to the human experience that we all lived and shared joyfully. As Baron commented: "In no other workshop, we had taken so many pictures of one another." We have hundreds of fun and endearing images and videos that hopefully our good friend Juan will make into a marvelous video.
The group has agreed that the highlight of the workshop has been to have our Santa Mar.
The name of the workshop pays tribute to Mar's warmth, her generosity and her wonderful sense of humor. The fact that she only spoke Spanish (and some French) was never an obstacle for everybody to get her many jokes and funny expressions. At one point, while stuck with our van on a dirt road, Barbara whispered:" Luckily Mar is with us." We all knew what she meant and we kept repeating to ourself throughout the workshop. Her untapped reservoirs of good energies have been an amazing asset in the workshop. After last year's images she continued to photograph the Day of the Dead celebrations with her dry sense of humor and irony. Her catholic roots and her background as a historian have also played an important role in her work's development.
All the other students have also greatly added something special to the group.
Baron's good vibes were so pervasive and contagious. That wonderful picture he took of the lady inside the Holy Death's shrine is a tribute to his persistence and hard work.
Aliona taking her third workshop with me this year, showed how her vision has become more selective and refined. The image of the bride shot through the interior of barn with two turkeys in the foreground is simply magnificent both as an idea and the accomplishment of that.
Barbara kept delving into her unique way of seeing life coming up with some unique, stunning images.
Birgit showed how her very intimate way of seeing is in constant growth creating timeless images.
Mark persisted in his personal work in color leaving us breathless with some of his intricate, subtle images. And Oliver, the new comer, was the most consistent of all students being able to take good photographs in almost any situation.
We will all be very patient to see Giorgio's new images with the confidence that he will surprise us with some outstanding images as he always does.
Mar simple and touching gifts to each one of us at the end of the workshop greatly moved everybody. Not only had she found the time to get them in our busy schedule, but for each gift she had a wonderful story to go with it.
Along with the symbol of the Virgin of Juquila I got a colorful, metal figurine of snail because she said:"It takes Ernesto so long to bring a photographic project to light." I was touched.
Mar also introduced all of us to this wonderful and, until recently, unknown amazing, almost mythical photographer called Giancarlo Caguama. We are unsure about his origins but we were all taken by the depth and scope of his work. The least we could do is to all become friends with him on FB. Check him out. You will get a kick out of it, especially for his profile image.
After hundred kilos of quesadillas, frijoles negros, tacos, mole negro con pollo, and generous serving of mezcal, we had to say good bye. I hope you will enjoy what these group of kindred spirits got to see and capture sometimes during these ten magical days.
Thank you all for your blind faith in your maestro once again. Start preparing for next year workshop. The adventure of discovering this new magical world in the Sierra of Oaxaca has just began.
EB
---