Chasing Llamas
Cuzco, Peru 2012
---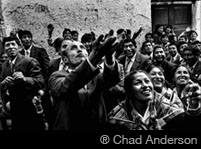 The feeling of returning to Cuzco for the eleventh year in a row fills me up with joy because I adore these places and these people. But this year along with my students, Barbara who is coming for the first time and Chad and Willard who are veterans of this workshop, we have shared a new glee in feeling all together that to be back to this land was just the beginning of our work: eleven years turned into a few minutes. It became clear that this workshop represented the beginning of a new, even more profound search and that the only important thing was to begin taking pictures with renewed enthusiasm.
Lately, all my workshops are going through a new phase of renewal and of new fascinating explorations in areas always more remote: each workshop in Brazil, Peru and Mexico becomes the beginning of this new deepening.
The words that my dear Chad wrote as part of his comments for his third workshop in Cuzco with me come to mind:" I thought one more trip to Peru would wrap things up…. I found more successful images this trip than the previous 3 trips combined and still they are inadequate for telling this story. So I will be back next year, God willing."
For the first time I decided to drive the car that took us above four thousand meters and sometime we got close to five thousand. Our official goal was to find llamas pasturing. But by going up a new universe was slowly unfolding before our eyes. Besides the extraordinary llamas with their regal stride and their almost-human expressions we encountered extraordinary landscapes, where the clouds and the fog were blending while caressing the mountains that would take up new forms. Little shepherds with Madonna-like faces would look at us surprised to see those crazy photographers taking pictures of their sheep that seemed even more surprised by our intrusion.
While wondering in these extraordinary lands we were feeling a profound sense of freedom.
Suddenly one day it started raining heavily. The windshield was filled with little raindrops that slowly changed shape before turning into other drops. I was at the wheel. Chad was sitting to my right. Together we started perceiving the beauty of this blanket of rain drops through which, you could distinguish landscapes laden with gray clouds turning almost black.
I decided not to use the wipers in order to continue relishing this game of the changing shapes. We were proceeding very slowly and for fun I grabbed my camera with one hand and I began to shoot. Before us a woman and two men were trying to remove some stones from a path about fifty meters from us. Rain continued to beat down. I stopped the car and we began shooting again. Barbara and Willard who were sitting in the back intuited that they had to get out to take advantage of the situation. Under the thick and light rain they began to work. Chad and I stayed in the vehicle and continued to photograph from inside out. A boy abandoned his chore and began running towards the roadside. Then all of a sudden I found a little cricket before me sitting on the dashboard.
I couldn't believe my eyes while the little creature from time to time was hopping around inside the car. I focused on the cricket making sure to have sufficient depth to have both the rain drops-covered windshield and the people outside playing around with their tools. The rain stopped and the cricket took advantage of the lull to jump outside the car window. I just hope that in those few seconds that the little insect gladdened our life with its unexpected presence something will come out of that.
A few months have passed from this experience. After the selection of the beautiful images from Barbara and Chad including an amazing one from that afternoon under the rain, the subtle and intimate pictures by Willard have just arrived. Going over all the photographs brings joy to my eyes because I know how many efforts, how many sacrifices, how many breath-taking climbing it took to capture this handful of images, but these photos also made us smile, excited us, startled us. They are images that will stay for a long time, maybe forever, within us. They are photographs of rain, of clouds, of mountains, of animals, of countrymen, of feasts, of faith, of roots, of love. They are simple images. They are images full of life.
EB
---