Lobster Under The Rain

Salvador de Bahia, Brazil 2009
---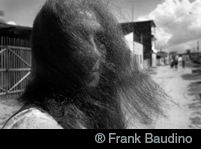 As my work in and around Salvador continues to grow, I like to expand my workshops and provide my students with new interesting locations to photograph.
This summer workshop has given the students and I the possibility to delve more into the fishermen daily life both on the island of Itaparica and in the villages around the coast.
The fact that the eight students came from different countries and photographic background made it very special and unique.
Unexpected events such as the Candomblè procession and the ritual that followed gave us that extra photographic surprises that I adore in my workshops. Another moment to be remembered the myriad children flying their kites all together. What a spectale to the eye!
The unforgettable dinner under pouring rain while feasting on grilled fish and lobsters accompanied by Brazilian beer and many capirinhas was another highlight of the trip and gave the name to our group. I literally saw a fisherman coming out of the water carrying all these live lobsters. It felt very natural to walk up to him and buy everything.
The level of photography was very high. Many students were able to greatly improve their shooting skills and the way they looked at reality.
For sure to be repeated next year.
EB
---